Acuhealth
Acuhealth provides a secure and trusting environment where individuals talk about their experiences & emotions.
It is conducted by trained therapists with specialized techniques and modalities.
Here it is essential to take reliable counseling to develop a greater sense of self-awareness and self-acceptance to improve their overall health.
Acuhealth provides Acupressure Treatment Therapy, which is an ancient healing practice used for centuries to promote overall health and wellness. Today, Acupressure is still considered a valuable tool for maintaining good health and preventing illness.
My self Bhavnit Kaur, and I am a certified Acupressure Therapist working from 2016 to the present.
 I am dedicated to providing my best services through therapy, research, and under the guidance of experts and experiences. I work closely with my clients to develop strong trust in treatment that defines and exhibits values.
I will provide you with many theories regarding health and treatment with Acupressure points. I use magnets and colors in my treatments, along with Auricular Acupressure.
Acupressure is an alternative non-drug therapy. In addition to physical discomfort, Acupressure helps to improve patients' mental health.
As a self-healing technique, Acupressure is performed individually by most of the patients. It is a non-invasive and non-pharmacological intervention with multidimensional roles and benefits.
Acupressure was found to be effective in maintaining body weight. Acupressure alone or in combination with other therapies was used to control the body mass index (BMI).
The best part about acupressure is that it provides safe, gentle, and emotional touch for promoting the well-being of the human population.
Acupressure alleviates a wide range of disease conditions, from immune ailments to emotional disorders. 
I am working to turn my passion for health into a booming online website. I will keep posting related posts on my website, and keep supporting...
Hope you enjoy Acuhealth services as much as I enjoy offering them to you.
Thanks for visiting!
Mrs Bhavnit Kaur
Acupressure Therapist
Our Team
Meet Our Qualified Staff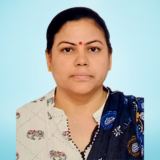 Mrs.Mitali Chatterji
Acupressure Therapist
Mrs. Savitri Singh
Acupressure Therapist
Mrs.Neeraj Verma
Acupressure Therapist
Mrs. Parul Agarwal
Acupressure Therapist